East Crooked Lake Livingston County MI information
I want to talk about one of the most asked questions when buying a lakefront home in Oakland County. If you have not started your search you may not know this but many of our local lake real estate is what I call a mixed bag of lake homes. You will find a beautiful lake colonial house built in 2000 next to a small ranch lake cottage that was built in 1920. The colonial may be 3000 square foot and the ranch home may only be 800 square foot. Some lake home buyers that are looking at the big colonial worry about the value because of the little ranch next door. So their question is being next to the small, less impressive ranch hurt the value of the colonial.
Cities the lake lies in Genoa
School district for the lake Howell, Brighton
Streets around the lake are paved
City water Well, municipal
City sewer Sewer sanitary
Canals on Lake no
Lots over an acre on lake yes
Water-ski course n/a
Condominiums no
In South eastern Michigan it does not affect the value at all. Having a small, ranch home that looks like it's from the 1940 does not lower the value of another bigger waterfront property. It does not matter whether it is a West Bloomfield lake home or a White Lake waterfront house. It just doesn't lower the value.
I would divide lakefront homes in the Metro Detroit area in two distinctly different categories:
1.) Subdivision lakes
2.) Mixed bag lakes
What is mean by that is the type of homes on the lake. What I call a mixed bag lake is a lake where you are going to find all styles and types of lake houses. One house may be an old 800 square foot lake cottage from the 1920's and next door is a big colonial home that is 3000 square foot built in 2000. Next door to that is a 1500 bungalow built in the 1960's. On a mixed bag lake you will find homes of all ages, sizes, and styles. An example of a mixed bag lake would be Williams Lake in Waterford or Upper Pettibone Lake in Highland MI.
A subdivision lake will be a lake that was usually built from the 1960's on and has similar style homes. For example you are most like going to find brick homes with attached garages. These homes are not going to be exactly alike or look like row houses. There still may be ranches, split level homes, and colonials but there are not going to be any little small lake cottages or unique homes. Most of the homes in what I call a subdivision lake will be built in the same time period. A couple of examples of subdivision lakes are. A couple of examples of subdivision lakes is Lake Sherwood in Commerce Township and Tull Lake in White Lake Township.
Some lakes around Metro Detroit have a section that is a subdivision style and another side that is a mixed bag homes.
Look through my website and you will find the information you need on whether it is a private, or public lake in Oakland and Livingston County. If you can't find the info you need give me a call at (248) 310-6239
Save thousands and thousands of dollars when selling your home. I have some of the lowest home selling commissions. Why pay full commission to a real estate agent and give away your hard earned money. Are you willing to over pay for selling your home? Give me a text or call today 248-310-6239 to see how much your home is worth and how much you can keep in your pocket.
East Crooked Lake in Genoa Township MI is one of three lakes that are clustered close together. So close that all you have to do is walk across the street to get to the other lakes. The other two lakes are West Crooked Lake and Clifford Lake. Clifford Lake has a dirt public access ramp which takes you through a narrow channel and out to the lake. There is no access to Clifford Lake from this lake. All the roads around the lake are paved.
Depending on where you live on the lake will determine which school system your children will go to. There is both Brighton and Howell school system on the lake.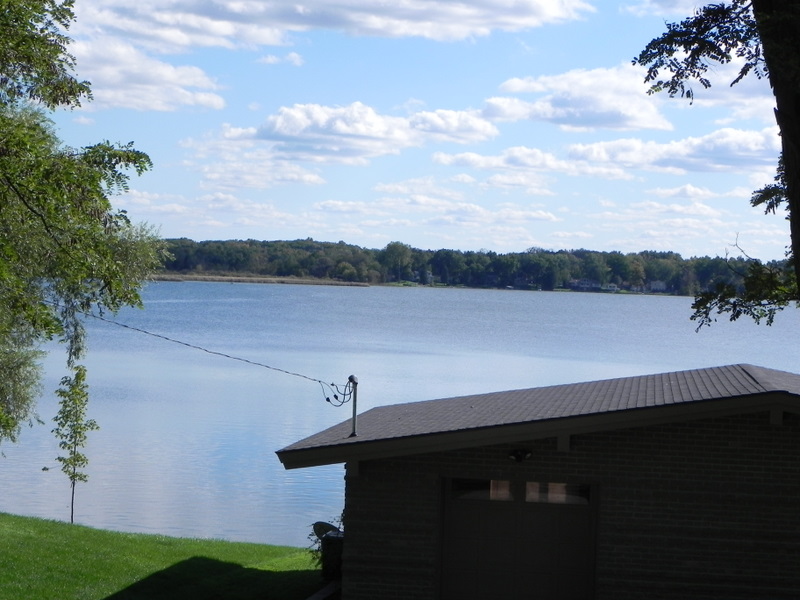 I am looking for local Livingston County lake association information and websites so I can add the link to this website so internet surfers that are looking for the lake association can find it. If you have information about a lake association or it's website you can email me at yesmyrealtor@gmail.com Thanks for all your help
Are you thinking of selling your lakefront home? If you are then you may want to spruce your waterfront home up. Todays home buyers want that fixed up, move in ready home. They want the freshly painted walls, the granite counter tops, the new carpet, the refinished hardwood floors, the updated kitchens and baths. Todays lake home buyers do not want to see paneling, wall paper, or old cabinets. Today's buyers prefer kitchens that have views of the lake, larger master bedrooms with views of the lake, and open layout homes.
You may not be able to change your layout, or open your kitchen up to get a lake view but you may be able to take that old wall paper down. You could paint, or update the carpet. What you do should be compared to how much the sales price will increase. You do not want to spend $30,000 updating the kitchen to get $20,000 back. You do not want to spend $20,000 to finish the basement if you only get a $10,000 return.
Recently a 800 square foot home with no basement on a canal got $200 a square foot. It sold at such a high price because it was pristine and totally updated. It sold in under a week! Other homes that were in need of work have been sitting on the market for three months or more. Some of these fixer uppers could have sold sooner if only the sellers took a little time to get them ready to sell.
Big Crooked Lake real estate Genoa Township MI
Some of the homes on Big Crooked lake are close together and others have lots as big as 180'. Some sit close to the road with little parking so it depends where on the lake you are.
Most of the homes on the lake range from 1200 to about 4000 square feet. They were built from the 1940's to 2000's. So there is a wide variety of homes sizes, styles, and lot sizes. In early 2011 I looked at at couple of homes that were tear downs and they were asking about $150,000 for them.
Between January & October 20, 2012 here's what sold on the lake.
5440 SHARP

220000

236000

15

161.9766

1457

1947

N
Here are all the East Crooked Lake front properties that have sold since 1/1/2006 up to 11/2011. This will give you a general idea of what some of the waterfront properties have sold for in the last few years.
4077 ANCHOR LN

8/17/2010

175,000

170,000

97.5

1743

3

2.1

5065 NORTHFIELD DR

3/25/2011

200,000

170,000

95.3

1784

4

3

4074 ANCHOR LN

7/28/2011

225,000

208,000

99.

2100

4

2.1

3615 LAKEWOOD SHORES DR

8/29/2006

569,900

482,090

134.3

3589

5

4.2
There is plenty of lake access homes near East Crooked Lake
Ready to find your lake home?
East Crooked Lake Location
East Crooked Lake is located in Genoa Township Livingston County MI. It is south of Crooked Lake Rd, east of Chilson, west of Dorr Rd, and north of Brighton Rd.
East Crooked Lake Fishing
Other Genoa Township Lakes and Lake homes for sale
Baetcke Lake, Clifford Lake, West Crooked Lake, Pardee Lake, and Coon Lake
Lake Home VIP Club
Tired of inputting your search criteria each time you look for a lake home?
You can get your own lakefront list emailed to you daily or weekly that meets your criteria. Join my
Big Crooked Lake Waterfront VIP club
and get the latest lake foreclosures and lake deals emailed to you!
Russ Ravary your Genoa Township Lakefront real estate agent
Russ Ravary - Metro Detroit real estate agent
Real Estate One
(248) 310-6239 YesMyRealtor@gmail.com
8430 Richardson Rd. Commerce MI 48382
For more information on other lakes, click on one of the links, below.
Elizabeth Lake lakefront cottages and homes
Bogie Lake Waterfront Properties
Take a look at these Washtenaw County Lake maps to help determine where you would like to live.
Silver Lake Waterford Michigan.
Check out Commerce Township Lakes and you could be living the lake life sooner than you thought.
Consider moving to a Home for sale on Mandon Lake White Lake Mi