Elizabeth Lake Waterford Twp information
Cities the lake lies in Waterford

School district for the lake Waterford

Streets around the lake are paved

City water Municipal, water at street, community

City sewer sewer sanitary, sewer at street

Canals on Lake no

Lots over an acre on lake yes

Water-ski course n/a

Condominiums yes
All sports lake Yes

Private Yes

Size 363 acres

Maximum Depth 72 feet

DNR Access No

Public Access No

Public Beach No

Wake restrictions Unknown

Water Source Clinton River
Top ranked Waterford realtors can save you thousands of dollars and make your home search or home sale easier.
A large part of Elizabeth Lake is 40 feet deep or more in most of the lake. Elizabeth Lake is one of Oakland County's MI most sought after lakes. With lots of activities going on for any boating enthusiast lake buyers want homes on the lake. Being a private lake keeps the boat traffic down. But at the same time you can Jet ski, tube, fish, or do what ever you want because the lake is good size (363 acres).
Between January & October 20, 2012 here's what sold on the lake.
4052 ELMHURST RD

695

650

30

0.8104

802

1955

N

5490 SARVIS AVE

750

750

8

0.8047

932

1930

N

841 S WINDING DR

795

795

11

0.9352

850

1937

N

490 LAKESIDE DR

1100

1100

6

0.726

1515

1951

N

4356 LANETTE DR

1200

1200

163

0.8571

1400

1928

N

3721 LINCOLNSHIRE RD

1200

1200

54

1.2

1000

1941

N

1530 PARKWAY

1325

1275

43

0.8709

1464

1992

N

5535 LAKE VISTA DR

1300

1300

20

0.8984

1447

1978

N

3832 FABER TER

41900

41000

71

51.25

800

1922

N

699 WOODINGHAM AVE

49999

59000

88

43.0029

1372

1978

Y

76 EXMOOR RD

69500

62500

54

62.5

1000

1946

N

4053 MAPLELEAF RD

85000

85000

72

69.3877

1225

1988

N

130 DOVER RD W

100000

90000

18

63.2466

1423

1941

N

5156 DRIFTON DR

99900

98000

3

70.1503

1397

1994

N

3809 HAZELETT DR

110990

102000

173

69.7197

1463

1940

N

5161 THORNAPPLE DR

109900

110000

27

98.2142

1120

1984

N

442 GATEWAY DR

112000

112000

1

87.5

1280

1962

N

4068 LAWLEY AVE

125000

113500

148

36.8865

3077

1950

Y

3727 LINCOLNSHIRE RD

124900

130000

50

92.264

1409

1941

N

5020 DURNHAM DR

174900

162500

5

146.3963

1110

1940

N

560 GRIXDALE LN

225000

185000

3

301.7944

613

1928

N

4640 SHERBOURNE AVE

299900

295000

40

137.2731

2149

1950

N

5062 DURNHAM DR

329900

320000

10

140.6593

2275

1962

N

5164 DURNHAM DR

475000

470000

22

196.4882

2392

1987

N
Here is a list of Elizabeth Lake homes that have sold or been leased between 01/2010 and 11/15/2011
560 GRIXDALE LN

10/16/11

1000

900

613

1

1

4817 MOTORWAY DR

2/14/11

1500

1500

1371

3

2

5062 DURNHAM DR

9/28/10

1700

1600

2275

4

2

4505 MOTORWAY DR

4/29/10

2100

1850

3448

3

4

4837 MOTORWAY DR

10/15/10

2500

2100

3787

4

4

5068 N DURNHAM DR N

3/15/11

199 900

200,000

125.9

1588

4

3

5054 DURNHAM DR

10/12/11

275,000

242,000

250

968

2

2

4837 MOTORWAY DR

8/20/10

549,000

450,000

118.8

3787

4

4

4415 MOTORWAY

5/29/10

1,395,000

800,000

197.2

4057

5

5.1
Elizabeth Lake real estate Oakland County
click here to get the latest list of lakefront homes for sale on elizabeth lake
Elizabeth Lakefront homes for sale have sold for as low as $43,900 in 2011. But in the highest price was in the $450,000 range. Like most of the time there is a large demand for lake homes under $250,000. The lake is an nice all sports lake that has many varieties of Waterford water front properties. There are 800-5400 square foot lake homes around the lake.
Elizabeth Lake property sizes depend on which side of the lake you are on. You will find wider and deeper lots on the northwest side of the lake. The homes on the south side of the lake are close to the road and the lake. The parking is tighter for the southside Elizabeth Lake properties.
Lake Home styles are:
bungalows

cape cods

colonial style homes

ranches

split levels
Most Elizabeth Lake homes that were built in the 1920's and 30's are gone. Yes there are a few remaining. The older homes have been bulldozed and re built. Most of the homes are from 1940 on. The early homes have no basements on little lots and many times without garages. But some of the later homes were built with walkout basements. Most have garages if the lot size permitted it. The upper end homes on the lake have all the modern ammenities, including 3 car garages.
Children that live on Elizabeth Lake attend Waterford Schools.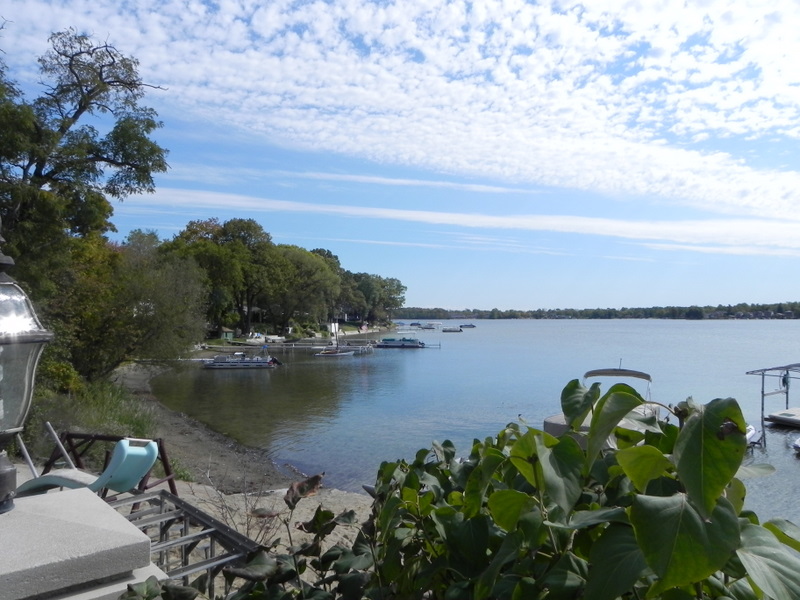 Check out this short video for Elizabeth lake
There are many lake access homes near Elizabeth Lake
Oakland County lakes vary so much from lake to lake and even from one side of the lake to the other. You could have a sandy lake bottom on one side of the lake and mucky on the other. Some lakes are all sandy bottoms. Others are all mucky. The easiest way to check whether it is sandy or mucky is to get into the lake. That is why it is smart to buy a lake home when the ice is off the lake. Sometimes the lake bottom is sandy for 10 or 15 feet then gets mucky. Usually if the lake listing does not proclaim sandy lake bottom....then it does not have it.
The next part of lake frontage that you may want to consider is vegetation or vegetation free lake front. Usually a mucky lake front invites lily pads and cattails. Because of DNR rules you cannot just go out and rip out lily pads and vegetation in front of the home. So do not buy a lake home thinking you can change the waterfront drastically. Sure some lake home buyers do the midnight lily pad weeding or put down chemicals at night to kill the vegetation....but it is illegal and still will take several years to do.
Sometimes if the lake has not been used in years there will be a little bit of vegetation out front. That is usually easily cleaned up. This usually is the case when the sellers are older and have not used the lake in years. By the time the kids and grandkids use the lakefront all summer it will be clean again. Many lake home owners have a large rake (a landscape rake) to rake up seaweed, and rocks. It is a great tool to have.
Location
Elizabeth Lake is located in Waterford Township Oakland County MI. It is S of Elizabeth Lake Road, N of Cass Elizabeth, E of Cooley Lake, and W of South Cass Lake Road.
Oakland County Lake living. I myself lived in Livonia for 23 years before I moved on a lake back in 2011. It's a great lifestyle. I have had so many clients tell me that they had wished they had moved to the lake earlier. I wished I had made the move earlier too. When you move onto a lake I believe you become more social. You tend to get to know your neighbors better. You tend to be more active and tend to be outdoors more. Family and friends will want to come to your house and enjoy the lake lifestyle. A warm beautiful day is an invitation to get out on the lake. You tend to leave work a little earlier to get on the lake. I know people that work from home that sometimes work with their computer in the middle of the lake. They just float around in the sun working. They have their laptop on their boat and enjoying the day. Yet still working! Now that is a life style that anybody should love.
Everybody has their own wants in a lake, and what they want to do. No one person has the same desires. I know people that live on a lake and do not own a boat. They just love the scenery. This Southeastern Michigan lake website is here to help you understand about our local lakes. I hope this webpage on lakefront homes for sale on Elizabeth lake in Waterford Michigan helps you. Always feel free to call me with questions or to get started on your lake home search. My email is yesmyrealtor@gmail.com or cell phone is 248-310-6239. Search "Metro Detroit Waterfront Homes For Sale"
The kids that live on the lake go to Waterford School system.
Fishing
Blue Gill

Crappie

Northern Pike

Smallmouth Bass

Largemouth Bass

Rock Bass

Yellow perch

Pumpkin Sunfish

Catfish
There are very few lake foreclosures that are Waterford lakefront homes. When lake foreclosures come up and are they are in the lower price ranges they usually go quickly. Don't try to steal them below list price, bid to get the lake front home. Call me on my cell at (313) 310-9855 for your list of Waterford Township Lake foreclosures or any list of Oakland County waterfront homes..
Other lakes that are close by are Crescent Lake, Cass Lake, Otter Lake, and SylvanLake, and Pontiac Lake
2016 homes that have sold
715 MCDOUGAL

4

5

2,084

$337,900

$305,900

09/12/2016

Lake Front

745 MCDOUGAL

2

3

1,375

$349,900

$330,000

10/21/2016

Lake Front, Lake/River Priv

649 WOODCREEK

2

4

2,819

$439,000

$444,000

08/31/2016

Lake Front

5190 DURNHAM DR

2

3

2,261

$429,900

$445,000

07/13/2016

Lake Front

964 SUNSET DR

4

3

3,214

$595,000

$560,000

06/03/2016

Lake Front

4585 MOTORWAY

4

3

3,832

$694,000

$676,000

12/09/2016

Lake Front, Lake/River Priv

18979 BELLA VISTA CRT

6

5

9,658

$1,759,900

$1,759,900

06/08/2016

Lake Front
Elizabeth Lake homeowners association
Here is one of Elizabeth lakes association and information they have pertaining to it.
ELEIA (Elizabeth Lake Estates Improvement Association) http://www.eleiabeach.com/ is a private beach association in Waterford, Michigan, with endless amenities to offer resident families and their associates to fill your summer with nearby activities, special events, and a sense of community that can only be found at ELEIA. Listed below are a few of the amenities that our members experience daily when visiting the beach.
• Safe, fun, family friendly atmosphere!
• Access to one of the cleanest lakes in
Oakland County
• Private NOT Public
• FREE Campouts, Movie Nights, Fish Fry's
• Certified Life Guards for your family's safety
• Diving Platform & Water slide
• Fishing "Pier"
• Clean well kept picnic areas to bring
family & friends
• Boat Launch & Mooring options
• Playground equipment for the little ones
(Grandchildren are FREE)
• FREE craft nights, sports nights & other
family oriented activities
• FREE fireworks in July
• Reasonably priced concessions
• Clean restrooms (with real plumbing!)
• Friendship and community like in the
good old days
• Great selling feature when listing your house
If you are looking for Lakefront property sign up for my
Elizabeth Lake Waterfront VIP club
get the latest foreclosures and Elizabeth Lake real estate emailed to you daily, weekly or monthly so you don't miss out on the deals.
To Search any Michigan Lake for lake homes for sale go to the atlas search or search by area. I hope this helped you if you have a Michigan relocation in your future.
Russ Ravary your Waterford Township Lakefront real estate specialist
Russ Ravary - Metro Detroit real estate agent
Real Estate One
(248) 310-6239 YesMyRealtor@gmail.com
8430 Richardson Rd. Commerce MI 48382
Here is what a previous client had to say about me!
"I was looking for a realtor and not knowing anyone in the business, I looked online. I heard from several people, but it was Russ with his no-nonsense approach that sold me. I asked what my first step should be and Russ stated immediately that I needed to get pre-qualified before looking at any properties. Great advice! After receiving my pre-qualification letter, Russ and I looked at many properties. As a first-time home buyer my knowledge was very limited, but Russ was more than willing to advise me on my best plan of action. We looked at many properties together and Russ was always on time; most of the time early for our appointments. He made my first experience of buying a home stress-free. If anyone asks me "Can you recommend a good realtor?" My answer would be, "Yes. Russ Ravary."
For more information on other lakes, click on one of the links, below.
Lester Lake waterfront homes and cottages
Maceday Lake Waterfront home for sale
Get an added bonus when you buy your next home? Russ not only will help you find a home that fits your needs at a great price, he also gives you a great closing gift of a new kayak, or grill, or snowblower, or lawnmower. (up to $500 in value)
Click Here to Get Your Free Kayak or Grill
Take a look at Wing Lake Sales to compare your home to.
Lakefront homes for sale in Chalmers Lake in Bloomfield Twp. MI
Make sure you get the information you need on Homes for sale on Otter Lake Waterford Mi