Independence Lake Webster Twp MI information
Cities the lake lies in Webster, Northfield

School district for the lake Dexter

Streets around the lake are Gravel

City water Well

City sewer Septic

Canals on Lake no

Lots over an acre on lake yes

Water-ski course n/a

Condominiums no
Independence Lake Webster Township Washtenaw County. It is an all sports lake to only the residents of the lake. There is a Washtenaw County park that only allows boat with under 10 horsepower to be launched. You can not launch a sail boat or jet ski either.
The side close (North side) to Independence Lake County Park is quite natural with weeds and lilly pads. I would say about three quarters of the lake is wide open and weed free.
So I would guess that the boating traffic would be very minimal even on the weekends. There just are not many homes or boats on the lake.
Have a great sunset photo? Or a good skiing, or action photo of the lake? Or even a photo of your family's fishing catch? I am looking for great photos to put on the website if you would like to share. You can email them to yesmyrealtor@gmail.com Be sure to tell me which lake it is from. Thanks in advance for helping make this the best lake website in Southeastern Michigan
Independence Lake real estate Washtenaw County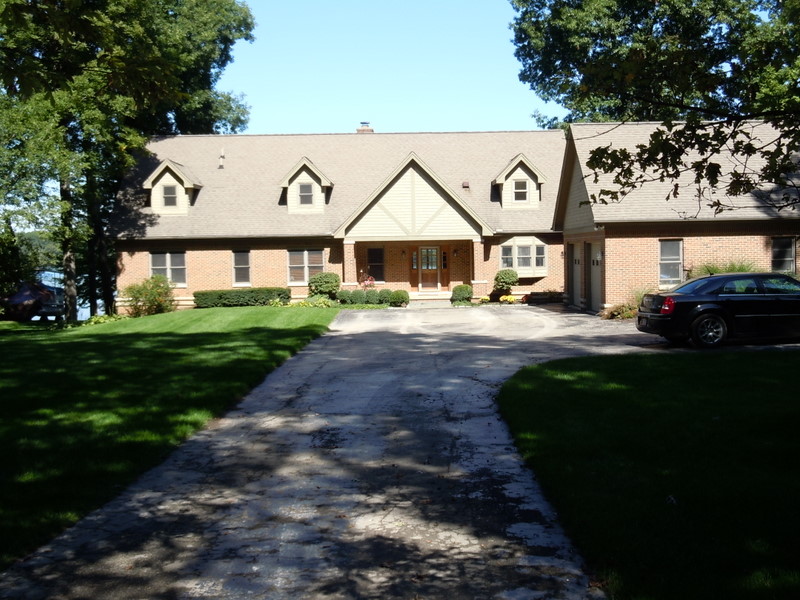 Between January & October 20, 2012 here's what sold on the lake.
8001 WOODS TRL

319900

340000

44

81.7111

4161

2005

N

8220 WOODS TRAIL

769000

630000

103

145.8333

4320

1991

N
Independence Lakefront homes for sale. Most of the homes are 2000 square feet or larger. Some range up to 6000 square feet. My guess is that there are only about 25 homes on Independence Lake.
Some of the Independence Lake properties are up to an acre in size. Most of the lake propertie have lake frontage of 80 feet or more.
What is nice about the real estate around the lake is that you get an "up north" type of feeling. You only can to get to the lake via a dirt road and the trees over hang the road like they do up north.
It is a dirt road around the lake.
Independence Lake home styles are:
cape cods

colonial style homes

ranches

split levels
Like some of Washtenaw County MI Lakes there are some great lakefront properties. Secluded with space between your neighbor and a distance of the road is the norm. The children that live on the lake attend Dexter Schools.
Independence Lake has a Washtenaw County Park on it. It is about 1/2 the lake. So there are only lake front homes on 1/2 the lake. There is no camping at the Washtenaw County Park. But there is a beautiful beach, with picnic tables, and changing areas.
In the 3 or 4 spots I was at on the lake the shore looked pretty sandy to me.
Location
Independence Lake is located in Webster Township Livingston County MI. It is west of US 23, north of Jennings Rd and south of Baker Rd.
There is a page on the State of Michigan website that has all the laws pertaining to in lnland Lakes. I have tried to put and add lake rules whenever I find out about them. Most southeastern Michigan lakes are governed by the normal lake rules and regulations. So lakes are non-motorized or electric motor only. But you will know that before buying on the lake.
Here are some of the normal rules and regulations of our local lakes. Boat traffic goes counter clockwise on the lake. You should stay 100 feet from the shore especially if you are making a wake. (Remember you are rocking everybody's boats. You can't tow somebody behind a boat before dawn or after dusk. Basically not in the dark. If you are at least 16 years of age and born after December 31, 1978, may operate a Personal water craft legally only if they have obtained a boating safety certificate.
Most boats have a sticker of how much weight and how many people can be on the boat at one time. You must have life preservers for each person on the boat too. Most lakes have no speed limits on them. There are only a few that do in our local area.
Most private lakes in Southeastern Michigan do not have a sheriff on the lake unless they are called. Many of the bigger public all sports lakes will have a sheriff on the lake on the weekends. It depends on the county and the county's budget as how often they are out there.
I did some research on Oakland County Lakes and added all the lake laws I could find on Michigan's website.
--------------------------------------------------------------------------
Jet Ski rules - Personal Watercraft rules
Many people are surprised to find out that there are specific age limits on who can drive a jet ski. Here are rules for jet skis and personal watercraft in Michigan
Those less than 14 years of age may not legally operate a PWC.
Those 14 and 15 years of age may operate a PWC legally only if they have obtained a boating safety certificate and …
Those at least 16 years of age and born after December 31, 1978, may operate a PWC legally only if they have obtained a boating safety certificate.
Those born on or before December 31, 1978, may operate a PWC legally without restrictions.
You must have your certificate with you when you are driving a jet ski otherwise you could get a ticket.
Fishing
I would think that the lake is heavily fished because of the public access. Though you don't have the heavy boating pressure that you do on some of the other public lakes.
Blue Gill

Crappie

Northern Pike

Smallmouth Bass

Largemouth Bass

Rock Bass

Yellow perch

Pumpkin Sunfish

Catfish
There are very few lake foreclosures on Washtenaw County Lakes. Since 2010 the number of lake foreclosures have been dropping off. When they come up and are in good shape they get bid on quickly ( so have me set up a daily email for you). Bidding low on a Washtenaw County lake property will most likely cause you to lose it, if there are multiple bidders. (in 2011) Remember the real estate market changes so who knows what the market will be like next month. Call me on my cell at (313) 310-9855 for your list of Washtenaw County Lake foreclosures.
Other Webster Township Lakes and Lake homes for sale
Other near by lakes are Strawberry Lake, Portage Lake, and Baseline Lake
If you are looking for Lakefront property sign up for my
Independence Lake Waterfront VIP club
get the latest foreclosures and Independence Lake real estate emailed to you daily, weekly or monthly so you don't miss out on the deals.
To Search any Michigan Lake for lake homes for sale go to the atlas search or search by area. I hope this helped you if you have a Michigan relocation in your future.
Russ Ravary your Webster Township Lakefront real estate specialist
Thinking of buying a lake home? Get the latest lake listings so you do not miss out on the best home. Click below I'm Ready for a Lake Home!
Russ Ravary - Metro Detroit real estate agent
Real Estate One
(248) 310-6239 YesMyRealtor@gmail.com
8430 Richardson Rd. Commerce MI 48382
Here is what a previous client had to say about me!
"Dear Mr. Ravary,
We would like to take this opportunity to thank you for all of your support, guidance and knowledge towards the purchase of my first home. You were very kind, friendly and patient during the whole process. The good thing I like about you is that you have never pushed us to buy any home, but walked with us and gave us yr honest opinion about homes we visited. You had never rushed into make a decision but gave us a time to make the decision wisely during the whole process. You made me familiar and explained with some of the real-estate terms and that helped me a lot during the whole process. Even after the home purchased, I know I can still count you for any help towards my home. I would definitely recommend you to my friends/family for their future home purchase!"

~kash patel~
For more information on other lakes, follow the links below!
Oxbow Lake lakefront properties
Big all sports lakes in Oakland County
Us this great tool: My Home Finder
Check out Silver Lake Sales to compare your home.
take a look at these Homes for sale on Duck Lake Highland MI
Want to find Homes for sale on Gilbert Lake Bloomfield Township MI CLICK HERE!