Marl Lake Fenton Township Michigan
Marl Lake connects to Silver Lake via a culvert under Owens Rod. There is a one acre island at the north end of the lake. There is one association for both Silver and Marl Lake. It is an active lake association that puts on a fishing tournament music on the lake
During the 1890s to 1930 marl, a type of clay, was mined from both Silver Lake and Marl Lake. Marl Lake was named for the Marl mined from the lake. The Egyptian Portland Cement Company built a plant on the north shore of Silver Lake. They began manufacturing cement in 1902 and Egyptian closed it's plant in 1920.
The mining operations made Marl Lake larger, and also created the deepest parts of Silver Lake. Lake levels on the lake are consistently controlled by a weir. Marl Lake is a kettle lake that was formed by glaciers thousands of years ago.

Marl Lake size 75 acres

All sports lake Yes

Wake restrictions Yes

Deepest spot 36 feet deep

Mean Depth 10.8 feet

Public access No

No# of parking spots None

Public Beach No but one on Silver Lake

Marina on lake No But one on Silver Lake

Shoreline

Named

Water Source Spring fed

Cities the lake lies in Fenton, Fenton Township, Tyrone Township

School district for the lake Linden & Fenton Schools

Streets around the lake are Paved

City water Well

City sewer Sewer & Septic

Canals on Lake Yes also connects to Silver Lake

Lots over an acre on lake Yes

Water-ski course No

Condominiums No
Marl Lake Homes Fenton Twp MI
There are about 94 parcels on the lake. Marl Lake is a little different from some of the other lakes in the area. They really didn't really start to build on the lake until the mid 1950's. Here are the basic features of the waterfront homes on Marl Lake in Fenton.
3 - 5 bedrooms
1 - 4 1/2 bathrooms
The homes range from 1100 square feet to over 5100 square feet
The lake homes have wells
It is a mix of septic systems and sewers
The waterfront homes were built from 1956 to 2019
There a few homes with no garages but most have 2 car garages. They range up to 4 car garages
Homes styles are ranches, colonials, and contemporary homes.
Quite a few homes have basements but there are some on crawl spaces.
Some homes are close together but there are some homes that sit on lots over an acre. There is a 2 acre, 3.92 acre and 11.23 acre lots with homes on it. Some of the homes sit on long narrow lots.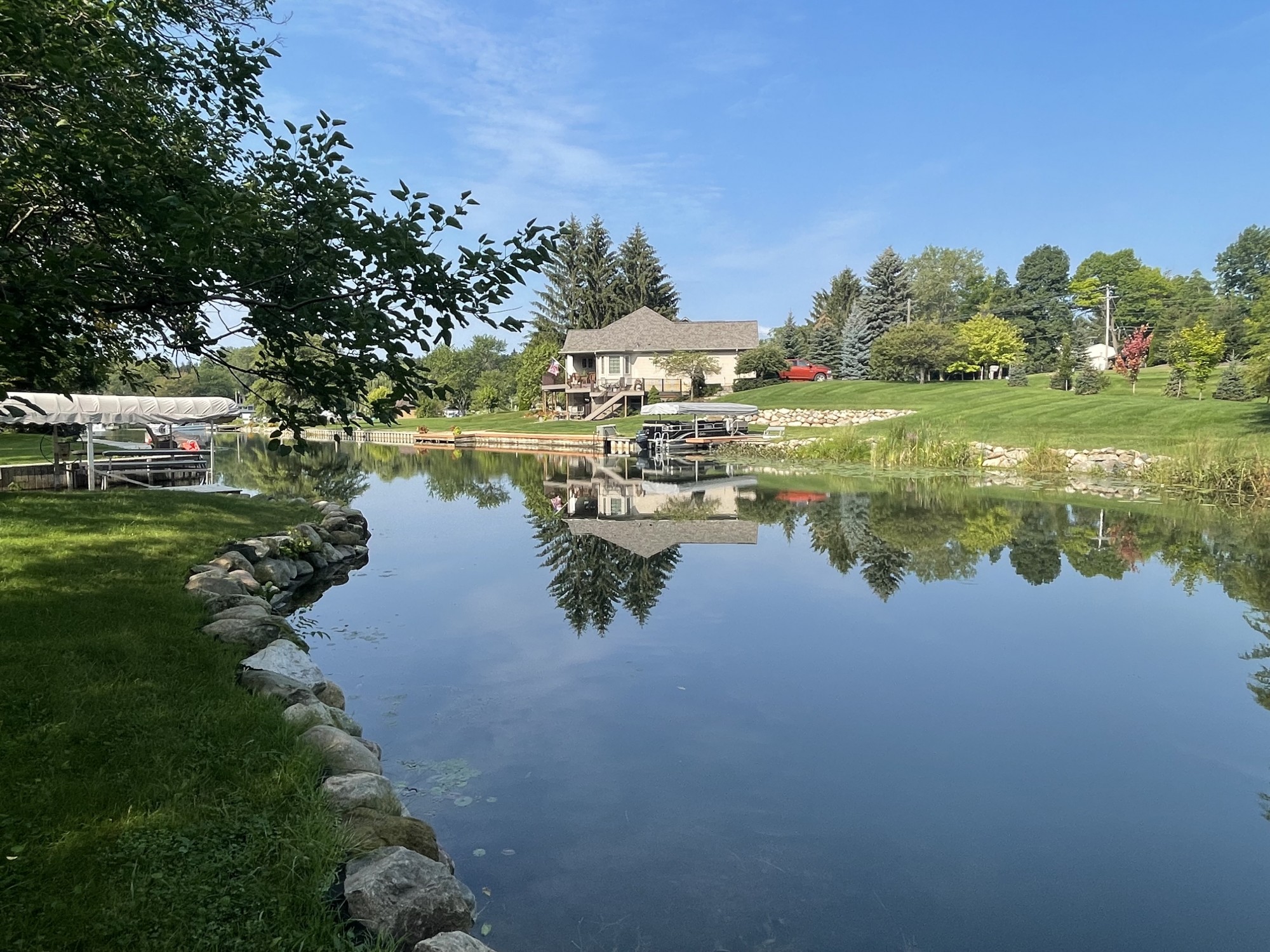 You are not going to find any of the old 600 - 700 square foot little ranches that were built in the 1930's on the lake.
Why pay too much to some real estate agent? When you sell your home..... keep more of your money and your homes profits by hiring a great realtor with a low commission rate. Save thousands and thousands of dollars on your real estate commission. Call Russ today to see how much you can save when listing your home 248-310-6239
Marl Lake Location
Marl Lake lies in 3 different communities. Fenton, Fenton Township, and Tyrone Township. It also lies in both Genessee County and Livingston County. It is south of Silver Lake and Owens Road and west of US-23. East of Whitaker Rd and north of White Lake Road.
As a lakes area realtor I feel it is very important for you the lake home buyer to know as much about the lake you are buying on. When I first started in this business there was no one website to find out about our local Oakland County and Lakes in Livingston County. So I put this website together so you and other home buyers can find the information you need about our local lakes. Lakefront home buying is a little tougher than buying a regular home. Not only do you have to find the home you want but you also have to find the right lake, and the right lake bottom too. So it gets a little trickier. So if your realtor is not asking you about what you want to do on the lake, or what type of boat you are thinking of getting then you DO NOT HAVE THE BEST REALTOR to buy a lake front home. Knowing what you want to do on the lake is important.
You may want to fish, or maybe swim with the grandkids. Or you may want to tube or wakeboard. You do not want to be going around and around in a small circle on a lake. We do not want you on a small lake if you love tubing and wakeboard with family and friends. You need the space to do that. So I home the information below on lake homes on Pontiac in Waterford Michigan gives you a glimpse of what to look for in a lake. Search "Oakland County Cottages & Lake Homes For Sale"
If you are looking for a really good lake real estate agent give me a call. I know the lakes and can help you find the best lake home for your family. Not only do I know the lakes but I am a good realtor too. Give me a call or text today 248-310-6239......you will be glad you did.
#marllakefentonmi #marllakefentontownshipmi #marllakegenesseecountymi #marllakelivingstoncountymi #marllaketyronemi #marllaketyronetownshipmi #silverlakefentonmi #lakesnearfentonmi #allsportslakesnearfentonmi #privatelakesnearfentonmi #AllsportslakesGenesseecountymi #allsportslakesLivingstoncountymi