Round

Lake

White Lake Michigan information
There are quite a few lakes within a mile of Round Lake in White Lake Township Michigan. Right nearby is Mandon Lake, Cooley Lake, Cedar Island Lake, and Long Lake. The biggest all sports lake of the five lakes is Cedar Island Lake. Most of the roads around the lake are gravel. It is an allsports lake but it is only 46 acres in size.
Cities the lake lies in White Lake

School district for the lake Walled Lake

Streets around the lake are Paved, gravel

City water Well

City sewer Septic

Canals on Lake yes

Lots over an acre on lake no

Water-ski course n/a

Condominiums yes
The name Round Lake comes from it's shape. The children that live on the lake go to Walled Lake Schools.
Have a great sunset photo? Or a good skiing, or action photo of the lake? Or even a photo of your family's fishing catch? I am looking for great photos to put on the website if you would like to share. You can email them to yesmyrealtor@gmail.com Be sure to tell me which lake it is from. Thanks in advance for helping make this the best lake website in Southeastern Michigan
Round

Lake

real estate Oakland County MI
Many of Round Lake front homes were built from the 1918 -1950's. There are some later built homes up to the 1990's. This is what I would call a cottage lake. The majority of the lakefront homes are 800 square feet to 1400 square feet. There are very few lakfront homes over 2000 square feet. Though there is one colonial that is 5600 square feet.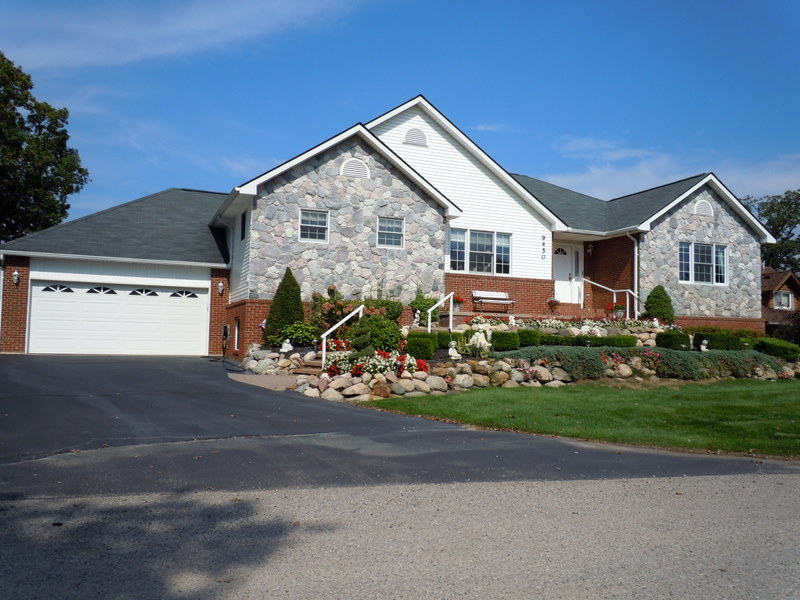 Round Lake home styles are ranches,bungalows, cape cods, and colonials. Many of the homes do not even have garages. It would be interesting to know how many of these properties are still just weekend homes.
Round Lake properties are small. Many of them are 30-50 wide. So as some people would say you sometimes can reach out and shake your neighbors hand from your window. There are not huge lots with lots of privacy on this White Lake Township lake.
Here is what has sold from 1/2009 to 11/15/2011
1100 CLEARWATER ST

7/28/11

2950

2950

5683

4

4.2

1225 GROVE POINT DR

8/12/11

99,900

75,000

84.7

885

3

1.1

9487 CEDAR ISLAND RD

9/23/11

74,200

75,200

81.7

920

1

1

1365 MIDWAY ST

9/10/10

109,900

110,000

73.3

1500

3

1.1

1269 GROVE POINT DR

1/15/10

119,900

120,000

87.6

1370

3

1

1194 CLEARWATER ST

9/1/10

149,900

146,000

58.4

2500

3

3

1112 CLEARWATER ST

8/8/11

170,000

148,000

86.3

1715

3

3

1338 CLEARWATER ST

10/7/11

164,900

159,000

110.9

1433

3

1.1

1280 BABLON DR

7/23/10

188,900

165,000

93.5

1764

3

2.1
There are lake access homes near Round Lake
Round Lake Location
Round Lake is located in White Lake Township Oakland County MI. It is north of Cooley Lake Rd, south of Cedar Island Rd, west of Round Lake Rd and to the east of Oxbow Lake Rd.
One of the unexpected bonuses of having a lake home is the nature and the wildlife that calls the lake home. Some of our Michigan lakes are right in the migration path of many of the ducks and geese. I sold a home on Independence Lake that had so many different ducks on it. It was absolutely amazing to see the whole flock take off at one time. It reminded me of my childhood when my grandparents to me to Jack Miner's bird sanctuary in Canada.
Our local lakes have mallards, wood ducks, geese, and swans that are around most of the time. Some people think the geese and swans can be a nuisance. But there is something majestic about a swan swimming by. Or funny when they have their butts in the air. I know the sound thump, thump, thump of a swan taking flight. It starts out awkward and then becomes a thing of beauty.
Rainbows over the lake, the moon glistening off the water are just two of the sights I love. The sight of two swans squaring off over territory. All these little things about life in nature. It is wonderful!
If you move off the lake you will miss the sounds of the geese in the early morning. The sights of the baby ducks all in a row each spring dutifully following their mother. (One time we saw a duck that had 18 little ducks swimming behind it) That is some of the special highlights of living on the lake.
Round Lake Fishing
Blue Gill

Crappie

Northern Pike

Smallmouth Bass

Largemouth Bass
I have taken all of the photos on the website. But I can't get out to all the lakes at sunrise, sunset, or when there is a great photo due to the weather. If you have a great weather photo or a sunrise of the photo I would love to put it on the website. You can send it to yesmyrealtor@gmail.com Thanks for all your help
CLICK HERE TO GET THE LATEST LIST OF LAKEFRONT HOMES FOR SALE ON ROUND LAKE
There are very few lake foreclosures on Oakland County Lakes. When they come up and are in good shape they get snapped up quickly. Don't low ball them, bid to get the home. Call me on my cell at (313) 310-9855 for your list of Oakland County Lake foreclosures.
Other White Lake Township Lakes and Lake homes for sale
Cedar Island Lake, Mandon Lake, Cooley Lake and Long Lake
If you are looking for Lakefront property sign up for my
Round Lake Waterfront VIP club
get the latest foreclosures and Round Lake real estate emailed to you daily, weekly or monthly so you don't miss out on the deals.
To Search any Michigan Lake for lake homes for sale go to the atlas search or search by area. I hope this helped you if you have a Michigan relocation in your future.
Russ Ravary
Metro Detroit Realtor
cell (248)310-6239
Russ Ravary your White Lake Lakefront real estate specialist
Buy and close on a Lake home with

Russ as your realtor and I will buy you

one of these items.

- Grill

- Kayak

- Smoker

- Lawnmower

- Snowblower

- Outdoor Game package
Sell your home and find a new one here Homes for sale on Walled Lake Walled Lake Mi