West Crooked Lake Genoa Twp MI information
Cities the lake lies in Genoa, howell

School district for the lake Brighton

Streets around the lake are Paved

City water Well, community

City sewer Sewer sanitary

Canals on Lake yes

Lots over an acre on lake no

Water-ski course n/a

Condominiums no
West Crooked Lake resident's children go to Brighton Schools. West Crooked Lake, Clifford Lake and East Crooked Lake are a cluster of lakes that you can walk to all of them. See the map below.
West Crooked Lake real estate Livingston County
West Crooked Lake real estate varies from one side of the lake to the other. The south and west side of the lake the homes are in Oak Pointe Country Club. On the north and east side of the lake are older homes. Not that there are not some newer ones.
But this side of the lake you will find the common mixture of old and new, large and small lakefront homes. There are small 700 square foot vinyl ranchs with no basement and no garage. But there are other homes that are much larger.
Many of West Crooked Lake properties on the north and east side of the lake are 50' lots.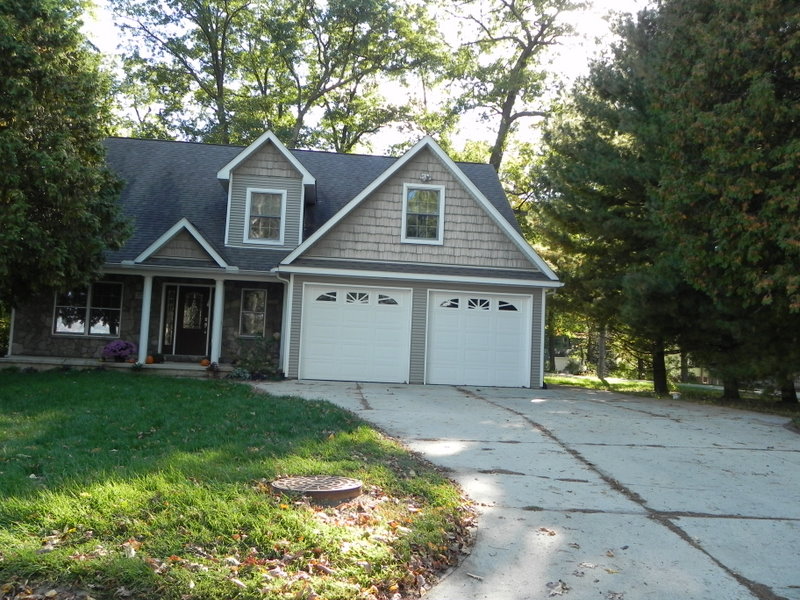 West Crooked Lakefront homes for sale. On soth and west side of the lake in Oak Point Country Club subdivision there are high end homes. There are some condos on the lake in Oak Pointe. They will be newer brick colonials ranging from 2000 -3000 square feet on that side of the lake with over a 100' of lake frontage.
There have been no homes sold between January & November 2012 on the lake.
The latest three homes that have sold (and 1 leased home) on West Crooked Lake are:
3880 HIGHCREST DR

7/1/11

1650

1550

1407

3

2.1

3962 HIGHCREST DR

3/28/06

212,000

212,000

245.3

864

2

1

4237 HOMESTEAD DR

6/20/11

300,000

275,000

141.9

1937

4

4

3710 NOBLE

12/23/05

289,900

287,500

261.4

1100

2

1
Here are three homes that sold on East Crooked Lake in 2010 and 2011.
4077 ANCHOR LN

8/17/10

175,000

170,000

97.5

1743

3

2.1

5065 NORTHFIELD DR

3/25/11

200,000

170,000

95.3

1784

4

3

4074 ANCHOR LN

7/28/11

225,000

208,000

99.

2100

4

2.1
So what are the pluses and minuses of lake living? The cons of lake living is that most likely you are going to have less house for the money than you would if you bought in a community subdivision atmosphere. The cons of lake living is that lake homes are closer together unless you pay bigger bucks for a large lake lot. Most Southeastern Michigan lakes homes are closer together. More like old Detroit homes. But you have the choice whether you want to mix with your neighbors or not.
The pluses of lake living is the lake life style. I call it living the dream. I feel that living on a lake makes you feel more relaxed. There is something about the water. If you are one of those people that love the water then you will love lake living. If you are one of those people that every vacation is to a warm spot on the water then you will love lake living.
it's all about family, and friend enjoying the lake. So much fun and memories are in store for you when you buy a lake home. If you like or love the water you will never regret buying a la lake home.
West Crooked Lake Location
West Crooked Lake is located in Genoa Township Livingston County MI.
Nearby Lakes are East Crooked Lake, Pardee Lake, Coon Lake and Clifford Lake
West Crooked Lake Fishing
Blue Gill

Crappie

Northern Pike

Largemouth Bass

Pumpkin Sunfish
Other Genoa Township Lakes and Lake homes for sale
If you are looking for Lakefront property sign up for my
West Crooked Lake Waterfront VIP club
get the latest foreclosures and West Crooked Lake real estate emailed to you daily, weekly or monthly so you don't miss out on the deals.
If you are waiting for that perfect Livingston County lake foreclosure you may want to look at lake short sales. You may find a move in ready lake short sale in better condition than the lake foreclosures.
Russ Ravary - Metro Detroit real estate agent
Real Estate One
(248) 310-6239 YesMyRealtor@gmail.com
8430 Richardson Rd. Commerce MI 48382
Russ Ravary your Genoa Township Lakefront real estate specialist
Buy and close on a Lake home with

Russ as your realtor and I will buy you

one of these items.

- Grill

- Kayak

- Smoker

- Lawnmower

- Snowblower

- Outdoor Game package
Here is our list of lakes Oakland County lakes A - E We have more information on plenty of other lakes and properties, give us a call!
Take a look at these videos for great info on the lakes; Huff Lake Video, Wabeek Lake Video, Wormer Lake Video
Find the best Homes for sale on Van Norman Lake Waterford MI